If, like our clients, you need sensibly priced, large or small business IT support you can trust without question, then we're confident we'd be a great match.
With our custom business IT support agreements, we can be your IT manager, your computer support engineer or your IT helpdesk technician, just without the employment overheads.
Our focus is on ensuring a high-quality user experience for your employees. With reporting, monitoring and a personal IT helpdesk, you can be confident your IT is in safe hands.
Flexible Business
IT Support Services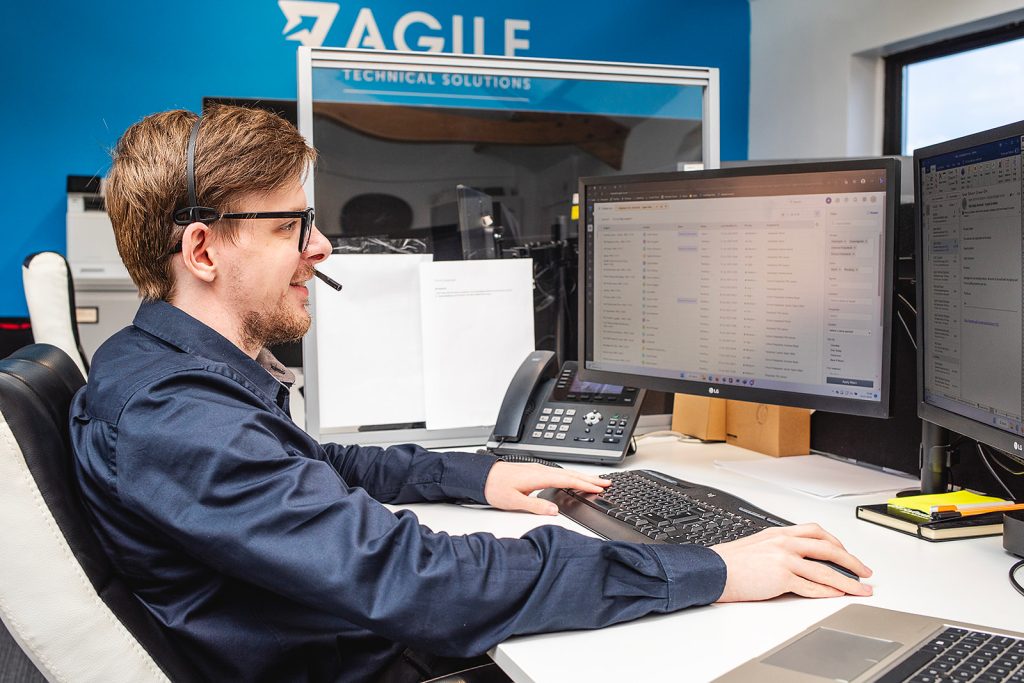 Whether you're an in-house Manager looking for extra IT helpdesk support or you need fully outsourced IT support, we'll create a bespoke computer support package just for you.
We pride ourselves on our consultancy-led approach where our onsite presence is standard. By visiting your office and understanding your business, we're confident we'll make a difference to your efficiency and productivity.
Proactive IT Support Company
Our IT service desk is run by highly-qualified engineers who are just a phone call away. What's more, they understand business and the importance of keeping you operational. That's why we focus on IT security and making sure that your systems are regularly updated. We include networking monitoring software for your server infrastructure as standard. This means we can ensure your servers are running within tolerance and that we can resolve issues before they become a problem.
We also offer a comprehensive maintenance service. This includes remote access monitoring and scheduled onsite housekeeping visits around the areas of Essex, Suffolk and East Anglia.
Local areas we offer Business IT Support to.
Outsourced Support in Essex and Suffolk
Based just off the A12 on the outskirts of Colchester and a short journey from Ipswich, we provide Business IT Support to a wide range of organisations throughout Essex and Suffolk. We consider it a privilege to work with established and growing businesses in the area. Please feel free to read our client case studies to discover how our IT helpdesk team brings real added value.
View case studies
Business IT Support FAQs
What does IT Support mean?
An IT support contract is an arrangement between two parties – the organisation receiving Business IT support and an IT provider. On this basis, you sign a contract with the IT provider to look after part or all your IT support for an agreed fee.
For instance, it could be that you are an IT Manager who needs third-line support for more complex issues. Or you may not have any in-house IT expertise and therefore require first, second and third-line Business IT Support.
A strong agreement should focus on the needs of your business. Therefore, your Business IT support contract should explain the rationale behind the agreement and the benefits to your organisation.
Why is IT Support important for businesses?
Almost every business is heavily reliant on technology. Therefore, employees must have access to an IT helpdesk when they have a problem or if there is a bigger network issue.
Sometimes technical IT support is managed solely in-house and other times by an IT support company.
As the name suggests, IT support is primarily about resolving IT issues, preventing problems from escalating, and ensuring compliance.
Having structured IT support from capable IT technicians helps a business remain efficient by:
- Accessing a remote IT helpdesk that aims to resolve any IT issues quickly yet having the option to escalate to more specialist technicians if required.
- Keeping connected. If you experience any network issues, an IT support company will have you up and running sharpish.
- Saving you time and money. Opting to outsource IT support is often far more cost-effective than hiring inhouse.
- Effectively managing data and systems. An outsourced IT support team will proactively manage various hardware and software solutions to manage and protect your data.
As an Essex-based IT Support company, our advice is to always seek support from an IT helpdesk run by highly qualified engineers who are up-to-date with the latest IT security solutions.
What are the benefits of an IT support contract?
One of the most important benefits of an IT support contract is that it ensures your systems are in good working order and protected from cyberattacks.
Having an IT support contract means you have the resources in place to resolve any IT issues and can lean on external technicians for assistance with IT projects if in scope.
Crucially, for in-house IT managers, having an IT support contract with a reliable IT company can free them up to focus on bigger projects.
How much does IT support cost?
The cost of outsourced IT support can vary depending on how much your organisation needs. Our bespoke packages are designed to provide you with what your business needs. So, you only pay a fixed price for what you need, and if that changes, we can adjust the agreement to suit you. Having built in regular structured IT Support services such as onsite housekeeping and IT Management meetings to your ongoing support package can make and save you money. Maximising your IT systems effectiveness, efficiency and staff working environments are essential to any successful business. With an ongoing IT Strategy with Agile Technical Solutions, you can ensure you are getting the best out of your current and ongoing investments in your IT infrastructure. You can also take advantage of existing innovative technologies to help grow your business.
What are the examples of IT support services?
IT support services vary from business to business. Some organisations need fully managed IT support services where they hand over complete IT support to an IT provider. Others just need certain technical support.
Broadly speaking though, most IT support services cover the following:
- IT helpdesk support
- Onsite support (when required)
- Regular housekeeping visits
- Network monitoring (proactive identification and resolution of threats)
- Cloud Services
- Software and hardware updates
- Managed security and backups
- 3rd party supplier liaison
- Regularly reporting (including yearly review)
- Additional support for project rollouts
Crucially, IT support services offer your business additional technical expertise when you need it. This means you can scale up and down to quickly manage changing workloads.
Similarly, IT support services can also include cover for internal IT managers in the event of illness or holiday.
We're not just a Business IT Support company.
While the vast majority of our clients lean on us for business IT support and our IT helpdesk service, there are other IT services that we provide and these are:
Don't just take our word for it…
"Also offering consultancy on IT governance and security, the team at Agile are incredibly valuable and valued members of our team. It's not just the quick, knowledgeable and efficient responses we get every time we have a query, it's also the extent to which the team takes ownership of our IT issues and resolves them first time every time."

Sally, AlphaBio Control
"Having worked with other IT support companies, it has been so nice to work with a firm who do what they say they will, when they say they will. Help and support is available as and when we need it, which for a firm where IT is critical to our operation, is essential."

Daniel, Partner, Griffin Chapman
"The best advice I ever received was, "give Agile Technical Solutions a call". So glad I did, they listen to our needs not just for today but forward plan and provide right tailored solutions, for our budget and the charity. IT is critical to the running of the organisation, and we can't afford to be without it. I have found all the staff polite, helpful and always go the extra mile to resolve any issues, big or small. I wouldn't hesitate to recommend and just want to pass on the same advice to you – Give them a call."

Nicki, Headway Essex
"Good IT function has become a major part of our business. The decision to engage Agile as our advisors has given us confidence, unparalleled support and pro-action that we previously did not have. Agile understand our business and its needs in future development."

Gavin, Howard Construction (Anglia) Ltd
"We have been clients of Agile for many years and have valued the help and support they have provided. Always professional and available to help when we need IT support. I would recommend Agile to any business looking for quality IT support."

Leigh, Clayden Financial
Let's work together
01206 700930
We're always available for a chat about your IT Support needs, even if you're just in the early stages of thinking about changing providers or need an IT helpdesk for the first time.
Simply reach out to us on 01206 700930 or send us a quick message using the form below.