Ipswich Digital Marketing Services
To achieve the fine balance between design, functionality and SEO performance, you need a tailored web design with real purpose.
As an Ipswich web design company this means bringing in all the right professionals, including:
Awesome graphic designers.

To create a website wireframe and design that engages and captures visitor attention.

Top-notch photographers/videographers.

To excite the user and evoke an emotional connection with your brand.

Highly experienced web developers.

To develop a secure, user-friendly website that can also be easily indexed by search engines

Specialist copywriters.

To make sure your content is telling the right story for your brand.

SEO/PPC specialists.

To help you generate a consistent flow of relevant visitors to your website.

Digital marketeers.

To generate traffic and leads from a carefully selected funnel of digital channels.
We believe that your website should be affordable, manageable and easy to access and update. As an IT company too, this is something we couldn't be more passionate about.
We Work to Established Standards
As an Ipswich web design company, all our websites are written and built to the highest standard. As such, they follow technical best practice and are W3C Standard Compliant. In most cases our preferred content management system is WordPress, although we do use other platforms. The reason for this is that WordPress offers a feature-rich user experience, is easy to use, and has plenty of scope for integrations.
Recent Web Design Projects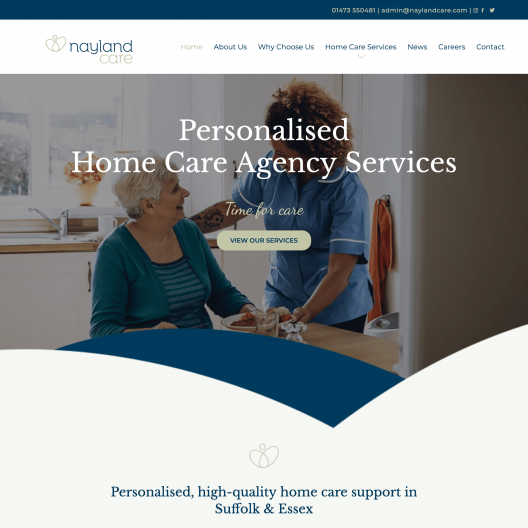 Nayland Care - Website Design and Build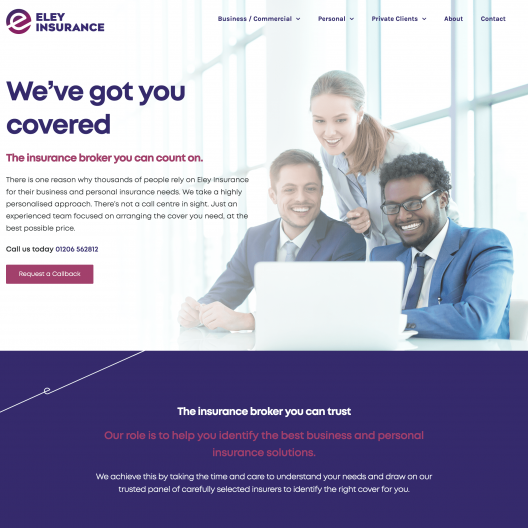 Eley Insurance - Website Design and Build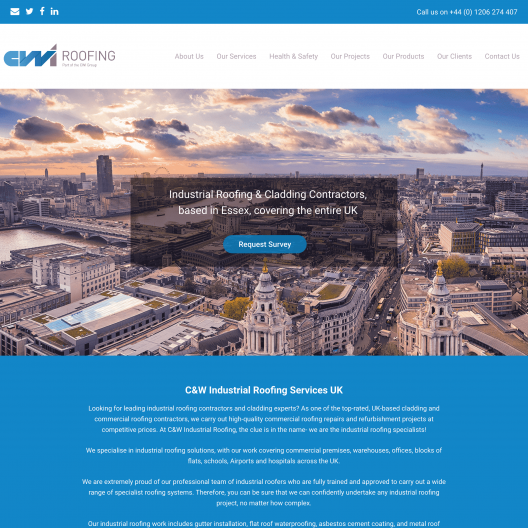 C&W - Website Design and Content

"Agile Technical Solutions have been incredible to work with on our new web design. We already knew we were in good hands, as they're our trusted IT partner. However, this project surpassed all expectations and to say that we're all blown-away is an understatement."

Chelsey Cookson, Company Director, Nayland Care

"Agile's work and support has been consistently excellent, from the initial redesign of our IT system and the subsequent provision of hardware and software. The support is easy to access from a team of well-qualified and experienced engineers, who are very responsive and good communicators. Their advice is well considered and readily available when needed."

Michael, Griffin Chapman
Ipswich Website Hosting Services & Domain Registration
Most of the websites we host we have also built. However, being an IT company, we also provide a high-quality Ipswich website hosting service to businesses whose websites we have not worked on.
Likewise, our support extends to domain name registration, as well as email redirection to your exchange server and web forwarding.  This will help give you peace of mind that you have legal ownership of your domain names.
Website Design FAQs
Why is website design important for business?
Web design for business is hugely important because it is your shop window. It directly impacts how your intended audience feels about your brand. In our experience as an Ipswich web design agency, the immediate on page impression you create will either inspire them to engage with you or not!
Likewise, a well-designed website can help convert visitors into loyal and engaged customers. Much of this is down to impactful visuals, robust web development and clever content seeded with the right blend of researched SEO key phrases.
Most importantly, a web design should be an accurate representation of your business and take visitors on a journey – it should tell your brand's story.
What makes a good web design for business?
As an Ipswich web design agency and an IT company, we build websites with user experience (UX) in mind. As crucially important as SEO is, we do not believe in keyword stuffing. Instead, we believe in creative web design that presents information to visitors in a format that is as eye-catching as it is meaningful. This takes real skill and effort, which we are fortunate enough to have in-house.
Since we are as technically savvy as we are creative, our websites perform incredibly well from a performance point of view. They are quick to load, have tidy code, are secure and SEO ready. Therefore, they stand the best possible chance of being found by those looking for your services or products.
Why choose us for your website design project?
As an Ipswich web design company, we have an established team of web developers, copywriters, web designers, and SEO consultants who have worked with some of the biggest brands in the world. Together, we like to think that we're bringing some of this big brand exposure to other aspiring businesses, just without the price tag of a London web design agency.
We understand what makes a good web design and that's not hundreds of pages. Instead, we take a less-is-more approach. We create web designs that know how to cut through the noise and inspire people to act.
When you choose Agile Technical Solutions as an Ipswich web design agency, you can also be sure that your website design is unique to you. When we say that we engage with our clients on a bespoke basis, we do just this. What's more, we engage our clients in the creative process, which they love. The result is always a web design our clients are proud of, which pays for itself many times over.
Therefore, all our websites are built to the highest web development standards and are W3C Standard Compliant.
What is web hosting?
Ipswich web hosting is where a hosting provider supplies space on a web server for a website to store its files. The amount of resources required for a website to run will determine the type of web hosting you need. So, space and size of website, bandwidth required to meet to amount of traffic it has, along with memory and processing speeds (CPU) needed for overall website performance. The main types of Ipswich web hosting are dynamically shared, dedicated, and VPS (Virtual Private Servers). Essentially though, it's the process by which a company buys resources to house its website.
Whether your website has been created by Agile Technical Solutions or not, we can provide high-quality web hosting specific to your requirements and domain name registration. Our clients find these services particularly helpful since they can be sure their website is performing and that they have legal ownership of their domain names.
Looking for a New Website?
01206 700930
Reach out to us today to find out how we can help you improve your online presence.