Working together.
David's requirements were somewhat bespoke. As a knowledgeable and technically very capable IT Manager, he oversees the day-to-day IT needs of the firm and is proactive in his approach to identifying solutions.
Therefore, our support is collaborative in scope. With 40 staff handling sensitive data, we work with David to ensure data is protected and that the best technology is in place to keep the business running efficiently.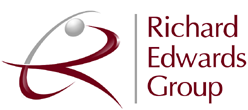 "The IT solutions they have created for us range from disaster recovery to threat management and the team are always on hand to help when we have any issues. I would recommend Nick and the team to any business who has an upcoming IT Project or requires IT Support."

David, Richard Edwards Group
Business continuity and disaster recovery
With business continuity identified as a priority, we introduced a redundancy solution using Hyper-V replication in 2019 as part of a server upgrade. In the event of REG's main server losing connection, their entire system fails over to a replica server in our Colchester-based data centre. This means as a business, downtime is never a concern for David and the team.
REG also has a robust Disaster Recovery Strategy in place that protects and stress-tests their systems. This is to make sure that they could be quickly up and running if a business-critical disaster were to occur.
Once a year, Agile works closely with David to simulate a Disaster Recovery scenario to test the strength of the DR solution introduced. This is very much a collaborative effort as our engineers fail over the system while David tests it.
Working with REG, rather than just for.
Every year, we hold a manager's meeting with David where, together, we review data governance and protection, how employees are using IT, and whether any improvements could be made.
Most months, we receive an average of three to four specific support queries from David and always respond quickly to whatever it is he needs. Additionally, we provide 1st Line support whenever he is away so that the team is never without immediate IT support.
We consider ourselves an extension of the REG team and are extremely responsive with our IT support. For example, at the beginning of the first COVID-19 lockdown in March 2020, we worked with David to add more resources to the firm's terminal server since far more people would be accessing it than usual.
Contact us now for a free no-obligation chat about the direction of your IT continuity strategy to see how we can help.
Let's Talk